At Eden, we offer a number of other services to support our landscaping, hydroseeding, irrigation, erosion control and lighting applications. Some of these services stand alone. Others can be integrated into your other projects. Below are just a few of these services.
Retaining Walls
Retaining walls are our specialty. We take pride in our walls and the functionality of the wall system, incorporating drainage, lighting, irrigation and lighting aspects. We use walls for both structural and decorative needs and have many products that we use and recommend. Let us evaluate your site today!
Brickwork / Patios
Are you looking to add an outdoor kitchen? Need an extra walkway established? Whatever your brickwork, walkway or patio needs, Eden can assist you in the design and construction of a beautiful addition to your home. We use different products depending on the clients' needs, including Belguard pavers, flagstone, cement, etc. Call Eden today to get started on your next outdoor living project.
[ see photos of other services and projects ]
Other Services
Eden performs many outdoor home and commercial services and it would be impossible to list them all here. Suffice it to say that if there's ever a doubt, you can simply pick up the phone or drop us a line by email to see if a related service is something we provide. Call 936-672-8888. Or use our contact form to reach us by email. We look forward to serving you.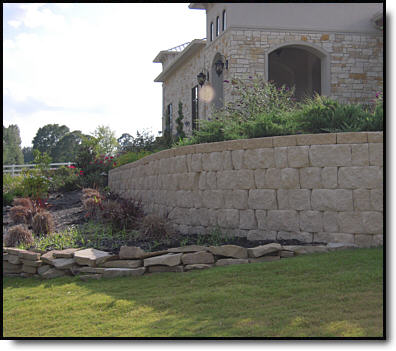 Reatining walls can be built for erosion control, foundation support and aesthetic value